Shift work and pathological conditions
Journal of Occupational Medicine and Toxicology
2006
1:25
Received: 10 January 2006
Accepted: 11 December 2006
Published: 11 December 2006
Abstract
Shift work exerts major influences on the physiological functions of the human body. These are primarily mediated by the disruption of circadian rhythms since most body functions are circadian rhythmic. Next to the disturbances caused by changes in the circadian system, shift work has also been suggested to be related to a number of other health disorders. The present study summarizes recently published data on the potential relationship between disorders and shift working.
Keywords
Breast Cancer RiskShift WorkNight ShiftPublication TypeNight Shift Work
Background
Occupational and environmental medicine cover a broad field of areas including respiratory disorders [1–6], haematological disorders [7], musculoskeletal disorders [8, 9] and dermatological and rheumatic disorders [10, 11]. Shift work related disorders are common medical problems and are encountered daily throughout the world by many practitioners. Therefore, a distinct field of research has focused on the identification of specific shift work-related issues [12–15]. One of the most important areas of shift-work research is the characterization of pathways by which shift work can exerts its influence on human health [16–19]. In this respect, nearly all biological functions beginning on the subcellular level have a circadian rhythm [20, 21]. It has become obvious that even disturbances of single aspects of these rhythms may lead to major effects [22–24]. The present review summaries recently published data on the association of shift work with different diseases.
Methods
A PubMed research was performed using the terms "shift", "work", and "shift work" and publication types (date: 2006-01-04). Articles were screened for their contents and relevant data was analysed.
Conclusion
There is a large amount of data pointing to an association between shift work and the prevalence of many medical conditions. However, as these disorders are often based on a variety of non-occupational factors, a distinct separation into either occupational (shift-work-related) or non-occupational can be difficult (fig.
4
). For example metabolic disturbances are caused by the disruption of circadian rhythms or by lifestyle of shift workers? Future experimental and epidemiological studies have to bring a better understanding of the factors influenced by shift work. Therefore, next to enlarging the epidemiological knowledge, experimental studies encompassing modern techniques from molecular biology [
38
–
41
], physiology [
42
–
46
], morphology [
47
–
49
] and toxicology [
50
] should be used to identify further cellular mechanisms.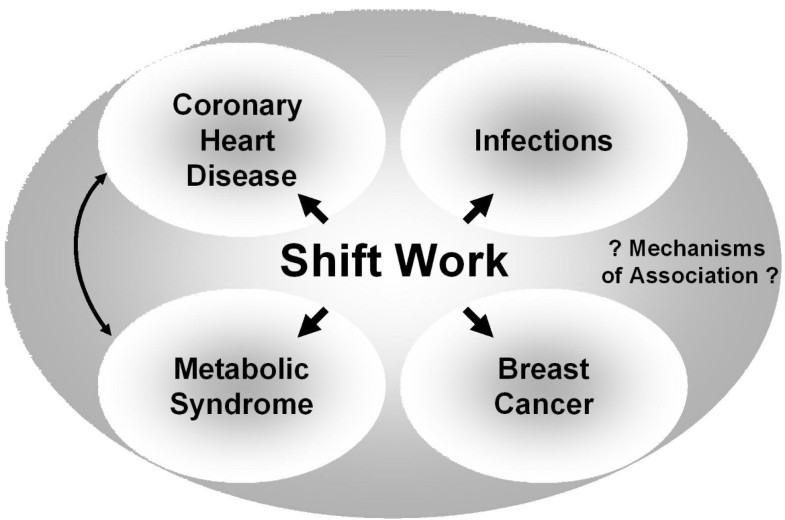 Authors' Affiliations
(1)
Institute of Occupational Medicine, University of Lübeck, Lübeck, Germany
(2)
Department of Occupational Medicine, VW-Nutzfahrzeuge, Hannover, Germany
(3)
Department of Prevention, Norddeutsche Metall-Berufsgenossenschaft, Hannover, Germany
Copyright
© van Mark et al; licensee BioMed Central Ltd. 2006
This article is published under license to BioMed Central Ltd. This is an Open Access article distributed under the terms of the Creative Commons Attribution License (http://creativecommons.org/licenses/by/2.0), which permits unrestricted use, distribution, and reproduction in any medium, provided the original work is properly cited.