Psychotrauma and effective treatment of post-traumatic stress disorder in soldiers and peacekeepers
Journal of Occupational Medicine and Toxicology
2009
4:21
Received: 23 June 2009
Accepted: 30 July 2009
Published: 30 July 2009
Abstract
Psychotrauma occurs as a result to a traumatic event, which may involve witnessing someone's actual death or personally experiencing serious physical injury, assault, rape and sexual abuse, being held as a hostage, or a threat to physical or psychological integrity. Post-traumatic stress disorder (PTSD) is an anxiety disorder and was defined in the past as railway spine, traumatic war neurosis, stress syndrome, shell shock, battle fatigue, combat fatigue, or post-traumatic stress syndrome (PTSS). If untreated, post-traumatic stress disorder can impair relationships of those affected and strain their families and society. Deployed soldiers are especially at a high risk to be affected by PTSD but often receive inadequate treatment. Reviews to date have focused only on a single type of treatment or groups of soldiers from only one country. The aim of the current review was to evaluate characteristics of therapeutic methods used internationally to treat male soldiers' PTSD after peacekeeping operations in South Eastern Europe and the Gulf wars.
This systematic literature review returned results pertaining to the symptoms, diagnosis, timing and effectiveness of treatment. Sample groups and controls were relatively small and, therefore, the results lack generalizability. Further research is needed to understand the influence and unique psychological requirements of each specific military operation on the internationally deployed soldiers.
Keywords
Mental Health CareTraumatic EventPtsd SymptomVietnam VeteranCognitive Processing Therapy
Introduction
Traumatic events can cause psychological trauma (figure
1
). These traumatic events may be single (Type I Traumata), continuous, or repetitive incidents (Type II Traumata) that render inadequate one's ability to cope with the resulting feelings [
1
]. The inability to cope may become apparent weeks to years after the traumatic experience. The traumatic event may involve witnessing someone's actual death or personally experiencing serious physical injury, rape and sexual abuse, being held hostage, or a threat to physical or mental stability. This is especially true for traumata during childhood. Physical harm, though often a component of the traumatic event, is not mandatory for the development of psychological traumata [
2
]. Individuals subjected to prolonged periods of extreme poverty or verbal abuse may also be traumatized as a result. Natural disasters, such as earthquakes and volcanic eruptions, and other catastrophes, such as mass violence and military service during war and peacekeeping missions can also cause psychological trauma. This paper focuses on PTSD as a result of male military service during gulf wars and peacekeeping operations in South Eastern Europe. We excluded female and child soldiers and Vietnam veterans explicitly from this review to ensure the highest level of comparability.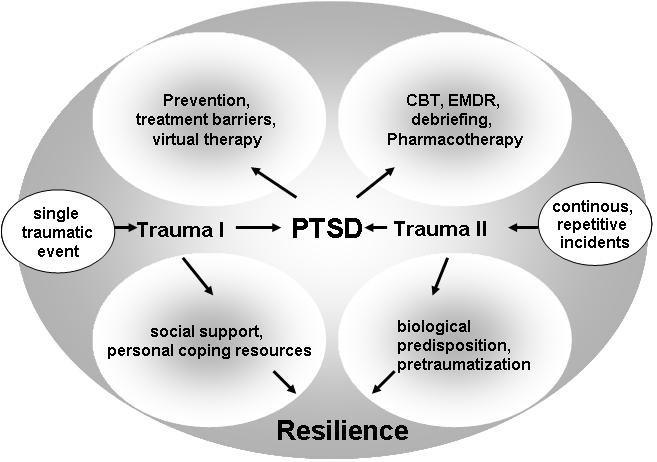 Post-traumatic stress disorder (PTSD) is classified as an anxiety disorder (ICD-10 F 43,1, DSM IV 309.81), to develop characteristic symptoms after traumatic exposure and to constantly avoid triggers to revive the traumatic event [1, 2]; historically PTSD has also been called railway spine, stress syndrome, shell shock, combat or battle fatigue, traumatic war neurosis, or post-traumatic stress syndrome (PTSS) [3]. Reactions to and symptoms of trauma can be manifold; although most people experience trauma in the course of a lifetime, only 8% of them develop PTSD [4]. Social Support after deployment in Iraq was shown to be a preventive factor even after combat exposure in a recently published study by Pietrzak et al. [5]. Vulnerability to PTSD presumably stems from an interaction between mental and biological predisposition, traumatic experiences during early childhood and severity of the trauma [6–10]. Symptoms may include pessimistic cognitive schemas [11], uncontrollable flashbacks and nightmares, avoidance of triggers associated with the trauma, increased arousal levels, sleeping problems, anger, increased agitation, and increased substance abuse [12]. Per definition, symptoms, like increased arousal, last longer than one to six months in PTSD and can significantly impair one's functioning both personally and professionally [1, 2].
Soldiers and PTSD
Due to greater exposure to combat, members of the Marines and Army are generally believed to be at higher risk for PTSD than members of the Air Force and Navy [13]. If left untreated, PTSD can negatively affect sufferers' behavior and damage their romantic relationships, their families, and involvement in society [14, 15].
Officially, the armed services of all the countries in this study offer mental health care services to soldiers; however, many soldiers are hesitant to seek treatment. Many conceal their condition for fear of retribution in the form of intolerance, stigmatization and job loss [16] despite evidence that treatments such as time-limited psychotherapy can achieve sustained improvement in psychosocial functioning and reduced severity of psychiatric and stress-related symptoms [17].
Reviews have largely focused only on specific treatment methods or patient groups; however, soldiers serving in international peacekeeping missions that involve multinational cooperation receive different treatments in their home countries. Therefore, the present review summarizes recently published data on the association of psychotrauma with different psychological treatment concepts. The objective of the current review was to analyze characteristics of therapeutic methods used to treat soldiers deployed to peacekeeping operations and the Gulf wars. Furthermore, we sought to track the latest developments in the field of trauma research and to identify mental structures in this patient group.
Methods
Standardized keyword searches in PubMed (55 items) and Psycinfo (153 items) were performed using the terms "ptsd treatment" and/or "soldiers" and publication types (date: 2009-03-04, review: July 2009). Approximately 200 articles were analyzed for study design, content and relevance. We excluded 43 reviews from the initial findings. 165 articles were retained and further analyzed in terms of appropriateness, excluding those that did not pertain to the specific issues of this study or its test subjects. During systematic scanning for content and study design we also looked through related articles. Fortytwo publications were included in our final analysis, the majority of which were published between 1992 and 2009.
Discussion/Conclusion
Despite media hype and an increased public interest in post-traumatic stress disorder, this review of empirical PTSD research is the first of its kind. We focused on how different military and public health systems manage the treatment of soldiers and peacekeepers suffering from PTSD after returning home from deployment. Scientific literature on psychotherapy for PTSD is scant and might be an indirect consequence of soldiers' fear of stigmatization.
Our findings suggest that post-traumatic psychological treatment can have short- and long-term advantages for affected army members, although study results are often difficult to compare due to small sample numbers, different types of deployment, different methodological approaches and the variable severity of traumatization [29, 48].
Evidence supporting the effectiveness of stress debriefing is inconclusive and its indication in the treatment of PTSD remains controversial [22]. Barriers to mental health care, such as stigmatization, still prevent affected soldiers from seeking and receiving needed treatment [16, 17]. Future strategies for PTSD may lie in the field of prevention and in investigating successful coping mechanisms among resilient servicemen [48]. Especially newer techniques, such as "virtual therapy," could offer an inexpensive alternative treatment with potentially global application. The easy accessibility of such techniques may help increase treatment participation by reducing soldiers' fear of being stigmatized [35, 36]. We did not find systematic studies, which examined a pharmacological treatment combined with psychotherapy [46]. This could obscure further resources of treatment improvement. Future studies should concentrate on prevalence and baseline data related to traumatic severity and type, combat exposure and its specific co-morbid symptoms, such as substance abuse [1, 29, 33, 58].
Results of national studies cannot be generalized. Influences of multinational characteristics of disease management need to be investigated in more detail. Treatment of mental conditions is not only influenced by the general organization of a healthcare system, but also affected by the society, in which soldiers live, and by the current values within that society [54, 55].
We expect new insights on treatment success, since researchers are more aware of PTSD in general and affected soldiers in particular. Servicemen are more likely to be treated immediately after traumatization nowadays instead of being examined years after deployment in Vietnam [25].
Although significant advances have been made, further investigation is needed in several areas of PTSD research to understand the impact and unique psychological requirements of military operations on the internationally deployed soldiers [48]. Further research and treatment efforts should focus more on multinational cooperation and multimodal approaches to increase the efficacy of PTSD treatment.
Authors' Affiliations
(1)
Institute of Occupational Medicine, Charité-Universitätsmedizin Berlin, Free University Berlin and Humboldt-University Berlin, Berlin, Germany
(2)
Department of Respiratory Medicine, Hanover Medical School, Hanover, Germany
(3)
Center of Occupational Medicine, Charité-Universitätsmedizin Berlin, Free University Berlin and Humboldt-University Berlin, Berlin, Germany
Copyright
© Vitzthum et al; licensee BioMed Central Ltd. 2009
This article is published under license to BioMed Central Ltd. This is an Open Access article distributed under the terms of the Creative Commons Attribution License (http://creativecommons.org/licenses/by/2.0), which permits unrestricted use, distribution, and reproduction in any medium, provided the original work is properly cited.