Engineered nanomaterials: exposures, hazards, and risk prevention
Journal of Occupational Medicine and Toxicology
2011
6:7
Received: 8 October 2010
Accepted: 21 March 2011
Published: 21 March 2011
Abstract
Nanotechnology presents the possibility of revolutionizing many aspects of our lives. People in many settings (academic, small and large industrial, and the general public in industrialized nations) are either developing or using engineered nanomaterials (ENMs) or ENM-containing products. However, our understanding of the occupational, health and safety aspects of ENMs is still in its formative stage. A survey of the literature indicates the available information is incomplete, many of the early findings have not been independently verified, and some may have been over-interpreted. This review describes ENMs briefly, their application, the ENM workforce, the major routes of human exposure, some examples of uptake and adverse effects, what little has been reported on occupational exposure assessment, and approaches to minimize exposure and health hazards. These latter approaches include engineering controls such as fume hoods and personal protective equipment. Results showing the effectiveness - or lack thereof - of some of these controls are also included. This review is presented in the context of the Risk Assessment/Risk Management framework, as a paradigm to systematically work through issues regarding human health hazards of ENMs. Examples are discussed of current knowledge of nanoscale materials for each component of the Risk Assessment/Risk Management framework. Given the notable lack of information, current recommendations to minimize exposure and hazards are largely based on common sense, knowledge by analogy to ultrafine material toxicity, and general health and safety recommendations. This review may serve as an overview for health and safety personnel, management, and ENM workers to establish and maintain a safe work environment. Small start-up companies and research institutions with limited personnel or expertise in nanotechnology health and safety issues may find this review particularly useful.
Keywords
Stratum CorneumPersonal Protective EquipmentDermal ExposureBreathing ZoneNational Nanotechnology Initiative
II. A Framework for Evaluating the Risk of ENMs
We elected to review the existing literature on ENM effects in the context of the Risk Assessment/Risk Management framework as originally described in the U.S. National Research Council report "Risk Assessment in the Federal Government: Managing the Process", often called the Red Book, that mainly dealt with chemical threats to health [
39
]. The framework is depicted in Figure
2
. A similar approach was advanced by the European Chemicals Bureau for biocidal products (
http://eur-lex.europa.eu/pri/en/oj/dat/2003/l_307/l_30720031124en00010096.pdf
). Although the NRC framework is portrayed as a sequential approach, in practice it is dynamic with considerable interaction between risk assessors, scientists, and often times the affected parties. This general approach has been proposed for evaluating the risks of ENMs [
5
–
7
]. A notable alternative is the Nano Risk framework, a joint venture of the Environmental Defense Fund and DuPont [
40
]. In addition, due to the many different ENMs, and the time and cost to thoroughly assess their potential risks [
41
], there is currently much interest in developing
in vitro
models that are predictive of
in vivo
effects [
42
], although these are not always successful [
42
–
44
], and in developing tiered testing systems [
45
,
46
]. Additional efforts are underway to group (band) similar ENMs in order to promote safe handling and use of ENMs, and restrict worker exposure, in the absence of definitive health and safety information [
47
,
48
]. Still others are applying computational approaches to predict ENM effects, including toxicity [
49
,
50
].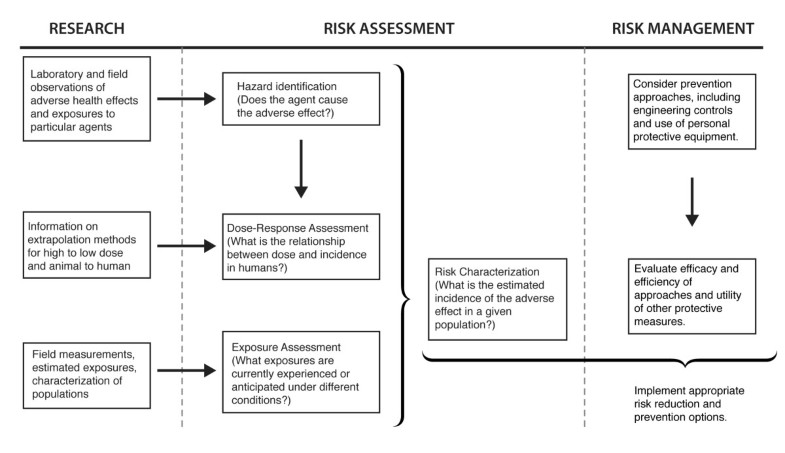 In this review the Risk Assessment/Risk Management framework will be used as a template because it succinctly codifies the diverse practices of risk assessment into a logical framework that collects data to determine (1) whether an agent causes an adverse effect, (2) how the effect is related to dose, (3) whether exposure is likely, and (4) the probability of adverse effects in the population at current exposure levels. The framework also embraces research that feeds each of the elements of the risk assessment with the necessary information. For the current review, this framework provides a systematic method to work through the many issues surrounding the potential health effects of ENMs.
The first element, hazard identification, addresses whether there is any evidence that an agent causes an adverse effect. Hazard identification represents the lowest hurdle in the process, since the evidence could come from any number of sources, including laboratory or field observations, and might only be suggestive. The next element, dose-response assessment, is more rigorous and asks whether there is a relationship between the dose of the agent and the incidence or magnitude of adverse effect. This element is based on the fundamental tenet in toxicology and pharmacology of dose response; that is, as the dose increases so does the effect. This information is often not directly available for humans, so laboratory animal studies are typically used. Exposure assessment is the next element. If evidence indicates an agent poses a hazard, and the hazard is dose-related, the next step is to determine the extent of occupational or daily life exposure. Information from all elements is then combined into a risk characterization, which estimates the likelihood of an adverse effect occurring in the exposed population or a segment of the population.
The Risk Assessment/Risk Management framework is comprised of 3 essential components; research, risk assessment, and risk management. Risk assessment is regarded as a scientific undertaking whereas risk management uses the science to regulate exposure to the agent in ways that take into account social benefits, economic costs, and legal precedents for action.
The following sections are arranged to follow the NRC paradigm. Examples are given of adverse effects of ENMs to show why there may be reason for concern. Reports on exposure levels, the likelihood of adverse effects resulting from exposure, and options for minimizing risk are also summarized. This is not, however, an all-inclusive review of the literature; interested readers are referred to the reference section for a number of comprehensive reviews of many of the topics pertaining to ENMs and their effects.
III. Hazard Assessment from Fire and Explosion of ENMs
Some ENMs have very high reactivity for catalytic reactions, thus raising the possibility of fire and/or explosion. As particle size decreases and surface area increases, the ease of ignition and the likelihood of a dust explosion increase. The latter may create a second hazard due to increased ENM release. There are no reports that ENMs have been used intentionally, e.g. by terrorists, or unintentionally to cause fires, explosions, or an airborne obscurant effect.
IV. Exposure Assessment
Another key element of the Risk Assessment/Risk Management framework is exposure assessment, which includes the most likely routes of ENM exposure. Not much is known about the extent of occupational exposure to ENMs. There are ~20 published studies [51]. "In the absence of solid exposure data, no solid risk evaluation can be conducted" [175]. There is obvious value in conducting exposure assessments in the workplace to identify the routes, extent, and frequency of ENM exposure. In assessing worker exposure, the traditional industrial hygiene sampling method of collecting samples in the breathing zone of the worker (personal sampling) is preferred over area sampling. Only a few of the studies cited [51] conducted breathing zone measurements. On the other hand, area samples (e.g., size-fractionated aerosol samples) and real-time (direct-reading) exposure measurements are useful for evaluating engineering controls, and their efficacy, and work practices.
When monitoring potential workplace exposure to ENMs it is critical that background nanoscale particle measurements be conducted before their production, processing, or handling in order to obtain baseline data. Nanosize particles frequently come from non-ENM sources, such as ultrafines from internal combustion engines and welding [176, 177].
An early study of SWCNT release during its handling in the workplace showed very low airborne concentrations of agglomerated material [178]. The rapid agglomeration of ENMs in air has been repeatedly shown [55, 178, 179]. Airborne ENMs associate with other airborne materials when present, or self-associate in their absence. Once formed there was little decrease in the resultant airborne agglomerations for up to 4 h [55]. An on-site monitoring study of carbon nanofibers (CNFs) in a university-based research laboratory showed an increase of > 500-nm particles in air during weighing and mixing (total carbon levels in inhalable dust samples of 64 and 93 μg/m3, respectively). Handling the bulk partially-dry product on the lab bench generated 221 μg/m3, and wet-saw cutting (which sprays water on the object being cut to lessen dusts) of a CNF composite released > 400-nm particles (1094 μg/m3). Office background was 15 to 19 μg/m3. Surface samples had up to 30-fold more total carbon than the office floor [180]. Another study showed that wet cutting of a hybrid CNT in an epoxy resin or in a woven alumina fiber cloth using a cutting wheel with water to flush dust particles produced no significant increase of airborne 5- to 1000-nm particles in the operator breathing zone, whereas dry machining did [181]. Production of a nanocomposite containing alumina in a polymer by a twin-screw extrusion process caused release of 5- to 20-nm and 50- to 200-nm alumina in the worker's breathing zone [182]. Covering the top of the feeding throat and the open mouth of the particle feeder, thorough cleaning by washing the floor, and water-based removal of residual dust on all equipment significantly decreased airborne particles [182, 183]. These results suggest that some engineering controls may be appropriate to safely remove some airborne ENMs, including maintaining the room at negative pressure relative to the outside, avoiding the handling of dry ENMs, adequate ventilation, and containment of the ENM material during its use.
NIOSH researchers developed a Nanoparticle Emission Assessment Technique (NEAT) for use in the workplace [56]. They used the technique to determine particle number concentrations using two hand-held, direct-reading, particle number concentration-measuring instruments, a condensation and an optical particle counter, to survey 12 sites working with ENMs. This was complemented by collection of particles on filters and transmission electron microscopic visualization. The results demonstrated the utility of NEAT and, in some cases, the source of ENM release and efficacy of engineering controls [179]. Engineering controls are discussed in more detail below.
There are numerous reports of adverse lung effects, and some reports of human deaths, from nanosized polymer fumes[26]. Two deaths were reported among seven 18- to 47-year-old female workers exposed to polyacrylate nanoparticles for 5 to 13 months. Cotton gauze masks were the only PPE used, and were used only occasionally. The workplace had one door, no windows, and no exhaust ventilation for the prior 5 months [184]. Workers presented with dyspnea on exertion, pericardial and pleural effusions, and rash with intense itching. Spirometry showed that all suffered from small airway injury and restrictive ventilatory function; three had severe lung damage. Non-specific pulmonary inflammation, fibrosis, and foreign-body granulomas of the pleura were seen. Fibrous-coated nanoparticles (~30 nm) were observed in the chest fluid and lodged in the cytoplasm, nuclei, and other cytoplasmic organelles of pulmonary epithelial and mesothelial cells. Two workers died of respiratory failure. Although presented as the first report of clinical toxicity in humans associated with long-term ENM exposure, many experts have expressed uncertainty that ENMs contributed to these outcomes [22, 185, 186]. Given the poor environmental conditions of the workplace and lack of effective PPE use, these outcomes could probably have been prevented.
V. Risk Characterization
The giant insurance firm Lloyd's of London conducted a risk assessment and concluded "Our exposure to nanotechnology must therefore be considered and examined very carefully" [http://www.nanolawreport.com/2007/12/articles/review-lloyds-new-nano-insurance-report/]. Japan's Ministry of Health, Labour and Welfare funded studies starting in 2005 to establish health risk assessment methodology of manufactured nanomaterials. It was recently concluded that studies of metals and SWCNTs from Japan are not yet sufficient to evaluate ENM risk [187]. However, a new study incorporated a physiologically-based lung model and data of particle sizes of airborne titania ENM during manufacturing to estimate anatase and rutile titania ENM burdens and adverse effects in lung cells. The authors concluded that workers exposed to relatively high airborne 10- to 30-nm anatase titania are unlikely to have substantial risk for lung inflammatory responses, but are at risk for cytotoxicity [188]. Risk characterization and assessment and gap analysis case studies were conducted with fullerenes, CNTs, silver as a example of a metal, and titania as an example of a metal oxide ENM [189]. Numerous additional data gaps were identified for each.
VI. Risk Management
There are no existing regulations or standards for ENMs within the three jurisdictions that have the largest nanotechnology funding, the U.S., EU and Japan [190]. In the U.S. OSHA would set standards for occupational exposure to ENMs. Three types of standards are relevant for ENMs under the Occupational Safety and Health Act [191]. 1) Substance-specific standards, for which there are none for ENMs. 2) General respiratory protection standards, under which inhalable ENMs would be considered particulates not otherwise regulated, e.g. "nuisance dust", with a 5 mg/m3 time-weighted average air exposure limit, determined by breathing-zone air samples. The respiratory protection standard requires employers provide workers with NIOSH-certified respirators or other PPE when engineering controls are not adequate to protect health. 3) The hazard communication standard states producers and importers of chemicals must develop Material Safety Data Sheets [191]. The U.S. EPA, using the legislative authority of the Toxic Substances Control Act has taken steps to limit the use and exposure to ENMs, including CNTs. EPA has required the use of PPE and limitiation on ENM use and environmental exposures [22]. NIOSH prepared a draft Current Intelligence Bulletin: "Occupational Exposure to Carbon Nanotubes and Nanofibers" (http://www.cdc.gov/niosh/docket/review/docket161A/pdfs/carbonNanotubeCIB_PublicReviewOfDraft.pdf). NIOSH recommends an 8-hour time-weighted average exposure limit of 7 μg carbon nanotubes and nanofibers/m3 air, and that employers minimize exposure to these materials. Suggested implementation includes many of the primary prevention measures discussed in this review and an occupational health surveillance program of exposure and medical monitoring. Given the 7 μg/m3 level is below total airborne carbon in non-CNT-production settings (offices) [180], the ubiquitous presence of CNTs which is probably due to hydrocarbon combustion [192], and the necessity to differentiate CNTs from other carbon sources to estimate airborne nanotube and nanofiber concentration, assuring their airborne level of < 7 μg/m3 may be difficult.
The goal in managing the potential risks from ENMs is to minimize exposure. In the absence of specific information on ENMs, the extensive scientific literature on airborne, respirable aerosols and fibers has been used to develop interim guidance for working safely with ENMs [
193
] [
http://ehs.mit.edu/site/content/nanomaterials-toxicity
] [
http://www.astm.org/Standards/E2535.htm
].The general approach to minimizing exposure is shown in Figure
4
, with the preferred followed by less desireable controls shown by the downward pointing arrow. Occupational health surveillance, which includes hazard and medical surveillance, is the process whereby information from any of these activities is collected and used to support or modify what is done at a higher step in the hierachy, as shown by the upward pointing arrow [
194
]. Those steps in the hierachy that have been investigated for ENMs are further discussed below.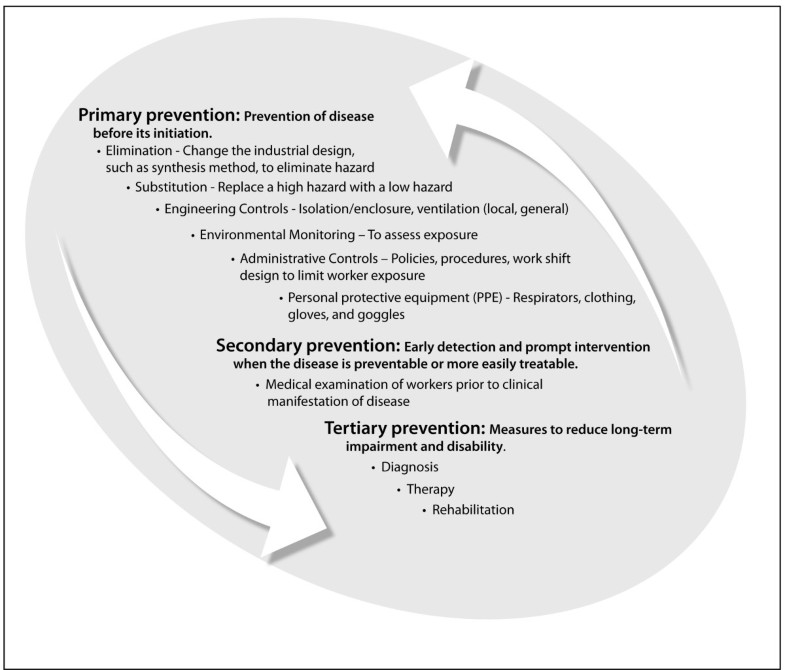 Conclusions
An extensive variety of ENMs has been created. ENMs have already been utilized in many products and much more extensive use is anticipated in the future. There are reports of toxicity following in vitro and in vivo exposure to many ENMs, albeit often after very high doses, and generally lacking dose-response assessment. There is a small amount of exposure assessment information, and a paucity of information required for a risk characterization. Until more research and workplace monitoring information becomes available to refine the current knowledge of ENM risks, good workplace practices and guidelines based on ultrafine materials are guiding the occupational safety and health practices in working with ENMs.
Appendix 1. Some good workplace practices
Post signs indicating potential hazards, PPE requirements, and administrative controls at entrances to areas where ENMs are handled.

Use appropriate PPE as a precaution whenever failure of a control, such as an engineering control, could result in ENM exposure, or ensure that engineering controls notify workers (e.g., alarms) when equipment malfunctions. Appropriate clothing and PPE generally includes closed-toed shoes, long pants without cuffs, long-sleeved shirt, laboratory coat, nitrile gloves, eye protection and perhaps a respirator, e.g., a half-mask P-100 or one that provides a higher level of protection, as appropriate to the ENM.

Transfer ENMs between workstations in closed, labeled containers.

Avoid handling ENMs in the open air in a 'free particle" state.

Store dispersible ENMs, suspended in liquids or in a dry particle form, in closed (tightly sealed) containers whenever possible.

Clean work areas potentially contaminated with ENMs at the end of each work shift, at a minimum, using either a HEPA-filtered vacuum cleaner or wet wiping methods. Do not dry sweep or use compressed air.

Consider the use of disposable absorbent bench top coverings and laboratory coats.

Place sticky floor mat at exit.

Provide facilities for hand-washing, showering and changing clothes
Prohibit food, beverages and smoking in the work area.
Declarations
Acknowledgements
The authors gratefully acknowledge the financial support for nanoscale research provided by US EPA STAR Grant RD-833772. The authors thank Matt H. Hazzard and Robin L. Jones, University of Kentucky Teaching & Academic Support Center, for preparing Figures 1, 2, 3, 4, and 5 and Drs. Ronald E. Shaffer, NIOSH, and William K. Boyes, EPA, for their helpful comments on a prior version of this review, and an anonymous journal reviewer whose extensive comments surely improved this manuscript. This manuscript has been reviewed by the National Health and Environmental Effects Research Laboratory and approved for publication. Approval does not signify that the contents reflect the views of the Agency, nor does mention of trade names or commercial products constitute endorsement or recommendation for use.
Authors' Affiliations
(1)
Department of Pharmaceutical Sciences, College of Pharmacy and Graduate Center for Toxicology, University of Kentucky, Lexington
(2)
Toxicity Assessment Division, National Health and Environmental Effects Research Laboratory, U.S. Environmental Protection Agency, Research Triangle Park
Copyright
© Yokel and MacPhail; licensee BioMed Central Ltd. 2011
This article is published under license to BioMed Central Ltd. This is an Open Access article distributed under the terms of the Creative Commons Attribution License (http://creativecommons.org/licenses/by/2.0), which permits unrestricted use, distribution, and reproduction in any medium, provided the original work is properly cited.