Bicycle helmet use and non-use – recently published research
Journal of Occupational Medicine and Toxicology
2012
7:9
Received: 4 April 2012
Accepted: 25 May 2012
Published: 25 May 2012
Abstract
Bicycle traumata are very common and especially neurologic complications lead to disability and death in all stages of the life. This review assembles the most recent findings concerning research in the field of bicycle traumata combined with the factor of bicycle helmet use. The area of bicycle trauma research is by nature multidisciplinary and relevant not only for physicians but also for experts with educational, engineering, judicial, rehabilitative or public health functions. Due to this plurality of global publications and special subjects, short time reviews help to detect recent research directions and provide also information from neighbour disciplines for researchers. It can be stated that to date, that although a huge amount of research has been conducted in this area more studies are needed to evaluate and improve special conditions and needs in different regions, ages, nationalities and to create successful prevention programs of severe head and face injuries while cycling.
Focus was explicit the bicycle helmet use, wherefore sledding, ski and snowboard studies were excluded and only one study concerning electric bicycles remained due to similar motion structures within this review. The considered studies were all published between January 2010 and August 2011 and were identified via the online databases Medline PubMed and ISI Web of Science.
Keywords
Bicycle helmetProtectionPreventionAccidentTrauma
Objective
Bicycle traumata are common causes of death and disability in all ages with a gravity of severe neurologic injuries in children and adolescents. Correctly worn bicycle helmets can reduce fatal and non-fatal head and brain injuries – these facts seem to be evidently and confirmed by a multitude of prior and recent studies. Unclear remains the range of benefits in protection of other injuries due to traumatic bicycle accidents as well as sufficient strategies of implementing the gained scientific knowledge into daily habit routines. Diverse studies measured also differences of attitude and behaviour in different person groups as well as in regions with or without legal regulations concerning helmet use. Due to the interdisciplinary field between prevention, acute medicine, epidemiology and legislation, scientists are barely able to monitor all disciplines. Therefore this article should provide insights into the ongoing research in the plurality of global publications and research projects concerning bicycle helmet use.
Design
In order to analyse the most recent findings concerning research in the field of bicycle traumata and the cofactor bicycle helmet use, search termini were selected and a search within the online databases Medline PubMed including the use of the MeSh-database as well as searching through ISI Web of Science was conducted. The screened studies cover the time span between January 2010 to August 2011, reviews, letters or case reports were excluded.
Results
Due to the multidisciplinary field of research, the studies are sorted under the following categories (see Table 
1
): medical findings, passive transportation on bicycles, co-factors, educational efforts and prevention, special terrain, region specific analyses, meta-analysis concerning helmet efficacy. No studies concerning technical or ergonomical helmet improvements were identified in the here considered time period.
Table 1
Overview -- Bicycle helmet use and non-use
Category

Study focus [citation]

1. medical findings

mandibular condylar fractures [1]

dentoalveolar traumata [2]

also see region specific analyses [3]:

characteristics and outcome of bicycle injuries in paediatric patients

2. passive transportation on bicycles

dummy study on infants in bicycle-mounted child seats [4]

3. co-factors

model analyses of crashes at intersection and non-intersection locations [5]

depressional symptoms and health-related risk-taking behaviours during adolescence [6]

alcohol use in correlation with head injury and helmet use [7]

4. educational efforts and prevention

depiction of injury-prevention practices in children's movies [8]

effectiveness of a bicycle software program [9]

attitude of neurosurgeons concerning helmet use [10]

prediction of helmet use among undergraduates by helmet attitudes scale and health belief model [11]

5. special terrain

mountain bike terrain park injuries [12]

6. region specific analyses

Germany [13]

Spain [18]

Hungary [3]

China [21]

7. meta-analyses

re-analyzed meta-analysis data from 2001 of Attewell, Glase and McFadden [22]
Conclusion
The recently published studies presented a broad variety of approaches dealing with advantages, disadvantages or practices of bicycle helmet use. Due to different legal situations concerning law regularities variant stadiums can interestingly be monitored around the globe. Similarities can be found towards not expedient programs concerning volunteering helmet use and its preventive benefit, although a relative protection of head and brain is stated as secured. The recent studies concerning mandibular condylar fractures and maxillofacial traumatic injuries indicated also a benefit in using helmets [
1
,
2
], but studies in greater settings need to be performed to reach distinct and bias-less statistic significance, because helmet benefits for face and neck injuries are up to now only of rarely evidence as Elvik showed [
22
]. Also especially, but not surprisingly the co-factor alcohol impairs on the one hand the attendance of using protective devices and promotes risky behaviour, on the other hand it worsens the severity and outcome of the listed injuries. New inventions like different airbag protections will surely be important and necessary reopenings especially for people, who object wearing helmets for appearance or stylistic reasons, but their functioning and surety must be tested carefully and for a broader populace they will be at least not affordable. Therefore improvements of the existing devices respectively of the awareness and attitude towards the usage will remain the central fields of research (see Figure
1
Areas of improvements). Since there is a large amount of research data on bicycle helmet use available, future studies applying modern scientometric tools [
24
–
27
] should also be performed in this area to provide better insights for physicians and other scientists into this multidisciplinary area of research.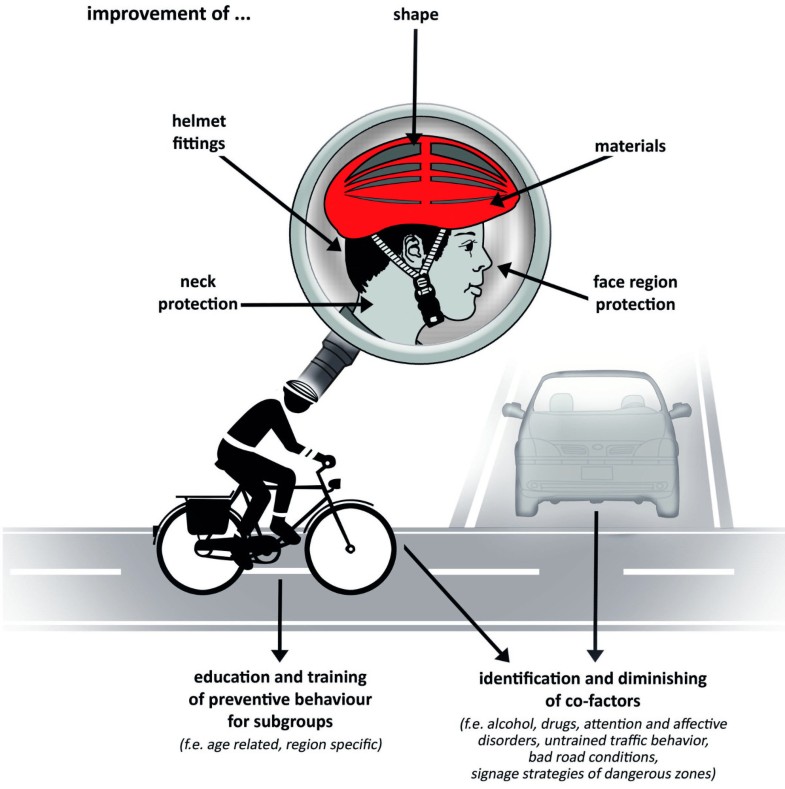 Authors' Affiliations
(1)
Institute of Occupational, Social and Environmental Medicine, Goethe-University, Frankfurt am Main, Germany
Copyright
© Uibel et al.; licensee BioMed Central Ltd. 2012
This article is published under license to BioMed Central Ltd. This is an Open Access article distributed under the terms of the Creative Commons Attribution License (http://creativecommons.org/licenses/by/2.0), which permits unrestricted use, distribution, and reproduction in any medium, provided the original work is properly cited.