Spotlight on the diagnosis of extrinsic allergic alveolitis (hypersensitivity pneumonitis)
Journal of Occupational Medicine and Toxicology
2015
10:15
Received: 25 November 2014
Accepted: 2 April 2015
Published: 20 April 2015
Extrinsic allergic alveolitis (EAA) or hypersensitivity pneumonitis is an immunologically mediated disease caused by sensitization to repeated inhalation of antigenic organic material derived from a variety of sources, such as mouldy hay, mouldy wood bark, bacterially contaminated metal working fluid or humidifier water (Figures
1
,
2
,
3
and
4
), avian bloom proteins, but also chemicals such as isocyanates may cause this disorder [
1
-
8
], (Table
1
). EAA is predominantly an occupational disease with most common antigens from thermophilic
Actinomycetes
species, various moulds and avian proteins. The prevalence of extrinsic allergic alveolitis varies depending on the climate, geographic conditions, occupational and industry factors, and is mostly is in the range of 0.1-3 [
9
-
11
] percent with farmer's lung or bird fancier's lung as the prevailing one in most regions. Sensitized subjects may develop an acute, subacute (intermittent), and chronic progressive course depending on degree of sensitisation, intensity and duration of exposure.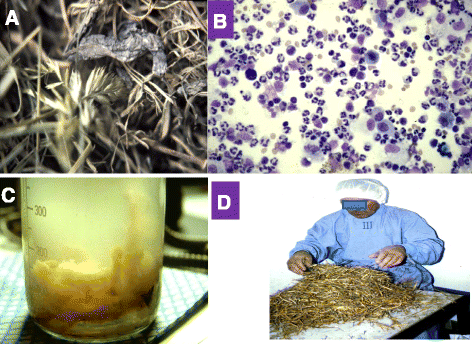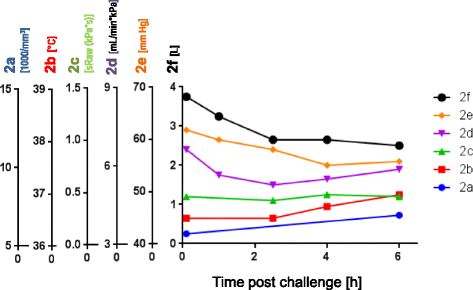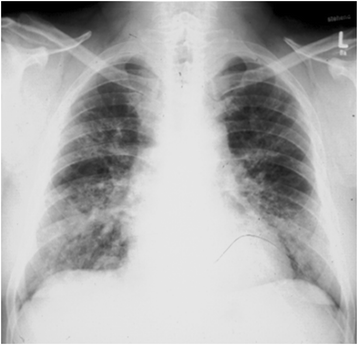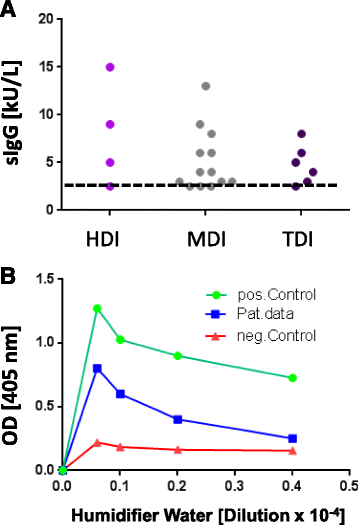 Table 1
Sources and major antigens of extrinsic allergic alveolitis (hypersensitivity pneumonitis)
| Disease | Causative exposure | Antigens |
| --- | --- | --- |
| Farmer's lung | Mouldy hay | Saccharopolyspora rectivirgula (Micropolyspora faeni), Thermoactinomyces vulgaris, Aspergilli |
| Bagassosis | Mouldy sugar cane fiber | Thermoactinomyces sacchari |
| Humidifier/air-conditioner lung | Contaminated forced-air systems, heated water reservoirs | S. rectivirgula, T. vulgaris, various fungi |
| Bird breeder's lung | Pigeons, parakeets, fowl | Avian proteins (of bloom or faeces) |
| Metal working hypersensitivity pneumonitis | Microbially contaminated metal working fluid | Various moulds and bacteria |
| Cheese worker's lung | Cheese mould | Penicillium casei |
| Malt worker's lung | Mouldy malt | Aspergillus clavatus |
| Paprika splitter's lung | Paprika dust | Mucor stolonifer |
| Mollusk shell hypersensitivity | Shell dust | Proteins in dust from sea snail shells or mother-of-pearl shells |
| Chemical worker's lung, isocyanate alveolitis | Manufacture of plastics, polyurethane foam, rubber | Trimellitic anhydride, diisocyanates |
EAA is associated with diffuse inflammation of lung parenchyma and airways in sensitized subjects including non-caseating interstitial granulomas and peribronchial mononuclear cell infiltration with giant cells. Although most affected subjects typically have high serum concentrations of circulating immunoglobulin G antibodies specific for the causative antigen(s), the diagnosis may be difficult as the symptoms are often non-specific, have typically a latency period of several hours, or may appear constitutional with malaise and weight loss; frequently they are gradually progressive over years, finally with persisting respiratory distress independent of the inducing exposure (Figures 1, 2, 3 and 4). Delays of years or even decades till the diagnosis is made are not uncommon, misdiagnoses include allergic asthma, COPD, recurrent flue and other infections. We recommend the following diagnostics schema for the disease pattern.
(1)
Institute for Occupational Medicine, Charité University Medicine Berlin, Berlin, Germany
(2)
Division Occupational Toxicology and Immunology, Institute for Occupational and Maritime Medicine (ZfAM), University Medical Center Hamburg-Eppendorf. University of Hamburg, Hamburg, Germany
(3)
European Society for Environmental and Occupational Medicine, EOM, Berlin, Germany
© Baur et al.; licensee BioMed Central. 2015
This is an Open Access article distributed under the terms of the Creative Commons Attribution License (http://creativecommons.org/licenses/by/4.0), which permits unrestricted use, distribution, and reproduction in any medium, provided the original work is properly credited. The Creative Commons Public Domain Dedication waiver (http://creativecommons.org/publicdomain/zero/1.0/) applies to the data made available in this article, unless otherwise stated.